psalmbook (Apogee Press, 2022)

In spare, lyrical fragments, psalmbook channels the Book of Psalms as an act of radical listening, "a spirituality of attention" (Cole Swensen). In these poems, Laura Walker re-inhabits the Book of Psalms, King James Version, to channel the voices she finds there. These psalms plumb desire, faith, and loss, a land of hum and sponge where the necessity of belief and the impossibility of belief hunt and sway. i remember you, the psalmist sings; once/ you walked in this land, and made soft thrumming sounds// once you were outlined in paper.
In her luminous new collection psalmbook, Laura Walker animates the mystery of existence by returning poetry to its ancient source of prayer. Conversing with the old psalms, freed from religious tradition, she restores our primal intimacy with the universe and the inscrutable other, here addressed as "you." Everything named is born out of deep silence—from "a braided moon" to "a cold truck" and "tidal blanket"—as though Walker conjured it from the beginning of time, which she has. psalmbook is a work of extraordinary vision, reimagining from early invocations, a new more integrated way of being.
—Denise Newman
Making fragile, glancing connections to their biblical counterparts (has "sheep of his pastures" become her "shaggy choirs"?), these spare evocations suggest a spirituality rooted more deeply in actual lived experience than their often-hyperbolic predecessors. It's a spirituality of attention, in which the praise, the passion, and the pleading are all still here, but with ambiguous foci that let them apply suggestively, now to one thing, now to another, making them psalms that bridge the supposedly sacred and supposedly secular, letting each illuminate the other through wonderfully bright, awakening phrasing.
—Cole Swensen
Laura Walker's psalmbook compels the reader to ask what a psalm is: lament? praise? Here, the psalm is rendered as a plaintive fragment of human consciousness. These are the songs of our indeterminate time: the past lies just out of reach from the present, even as it barrels into an ominous future. Spare and eerie, these poems overhear—spy upon—presences we typically ignore. i know you hear me, the psalmist sings:
there is no net
you did not make, nets
said and unsaid
We hear it. We unravel at the song. We read these poems and something breaks in us, ripe and unrepentant.
—Elizabeth Robinson
order from Small Press Distribution
psalmbook is also available by order through your local bookstore.
story (Apogee Press, 2016)

In a series of prose poems, Laura Walker's story draws on early memory, fairy tales, and family history to investigate the nature of story itself, its simultaneous inevitability and impossibility, its injuries and agencies, a porous net, clouds to take or leave, weather systems. Memories and perspectives shift over time, something both did and didn't happen, and the story follows its own trajectories: her story is not her deliverance, does not sit up for breakfast when the tray enters, does not dig its own grave in the far field. Rather than movement over time and ground, here narrative is the same circle traced repeatedly, eroding the surface, a cradled gash, warm bubbling of space, a hole to carry in your pocket.
Laura Walker's marvelous story reminds us: gender is a narrative, and "to be narrated," she writes, is both "to be invited and contained." Indeed this dreamy book about Southern girlhood invites the reader into a rich, detailed diegesis whose lyric landscape contains all the gender constraints a girl learns from the world. And like the fairy tales Walker draws upon, story shows how these constraints pretend to be simple despite great complexity. Their apparent simplicity arises from emphasizing "habit and trauma," narrative's continuity and its disruption by violence that reinforces gender norms. But story reveals that their complexity stems from the way that gender, like narrative, actually "has no beginning but a place where it breaks, a frayed end and a blank space and another frayed end." Sentences like this make me love this wise and beautiful book of brothers and soldiers, swans and floods, old family stories and betrayal, the kind of knowledge that turns a girl into a robber.
—Brian Teare
In Laura Walker's splendid book "Story," she shares the strategies of telling, which, as every savvy writer knows, is a constant tug between sharing and holding back, finding, losing, and recovering the threads of narration– as Paul Ricoeur said: narrative is human time. Walker's rich and delicate story of natural forces, human forces, master narratives, and secret moments whispered on deathbeds is as whole and as fragile as any fine sequence of poems: from soldiers inside of hollow trees to a loved but slightly dangerous brother to birds' silent migration, to the loneliness of a child's unarticulated world, a family history is woven together in moments of safety and danger, achieving clarity. It is the story of herself and the story of the story. It is a dance of life and death and a music to live by.
—Maxine Chernoff
order from Small Press Distribution
story is also available by order through your local bookstore.
Follow–Haswed (Apogee Press, 2012)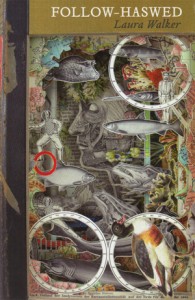 Each poem in Follow–Haswed is composed of fragments of an individual entry in the sixth volume of the Oxford English Dictionary ("Follow–Haswed"). Drawing from a word's etymology, definitions, and illustrative quotations, Laura Walker explores the worlds which hover at the cracks and crevices of our language. War and girlhood, ships and soldiers, monsters, ghosts and the sea emerge and recede from within and between the poems, arising from our impossible desire to define and still language, to pin meaning— from that inevitable loss, and from what emerges alongside it. From "free": Without knots/ strange; if strange/ a face; from "gorge": The human face is/ whirlpool/ sulphur smoke// broken/ from the drawing broken// and/ necessary to carry.
Laura Walker's poems take us directly to the prescient heart of poetry. First outcry, without scale or law. In the purity of ancient voiced song, crying out for no place to cry out. Unknowing. Her poems begin at Follow and pull through to Haswed, [from Vol. VI of OED], with precarious tipping forward into found meanings. Some poems, the smallest two lines, pitch parts of speech and suture them to hold us inside her vast sorrow voice—far back in a particular history of loss with the sudden joy that made it so. Repetitions of words quietly insist, words in un/dictated return; or dark. Unrepentant. The story of a singular pushing through against the flaring of historical moment: "not to have survived/ to sing ". Re Haswed, you are asked to follow, and again follow. This is an unforgettable book in the highest tradition of break-through art.
—Kathleen Fraser
Using a linguistic constraint centered exclusively on entries from F-H in the OED, Walker manages to hit on charged words—face, lost, boat, river—words that seem to hold all of human history within them—in ways that set them off in dozens of directions at once. There's a narrative here, sheer and shadowy, that slips away as soon as you look at it directly. It's a book to be read with the corner of the eye, that subtle seventh sense, which is just what she is speaking to, so clearly and so beautifully.
—Cole Swensen
Laura Walker's Follow—Haswed takes the OED as its palimpsest— performing archeological and sculptural procedures on the layers of history in the language we use every day. Language marked, "or / marked / marked with / or" otherwise over-written with centuries of use. It is the centuries of use that we can observe in the dictionary, and that we fall in love with in these erasure poems. Follow—Haswed turns follow-haswed into a text to indulge oneself in—a text in which to linger. Each letter is something we "pass from mouth to mouth." We define, we trace our fingers down the long columns of the tiny print, we "use up / as a lover" all of these words. Walker finds the miracles of everyday language and historical language, which reminds us that it, too, was once used every day.
—Pattie McCarthy
order from Small Press Distribution
Follow–Haswed is also available by order through your local bookstore.
bird book (Shearsman Books, 2011)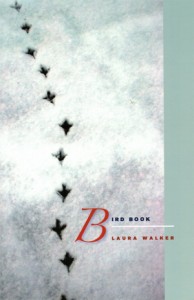 bird book is written in collaboration with a field guide to North American birds; each page both borrows and departs from language found in an individual bird entry. The resulting text is an investigation into dissolved and dissolving narrative, into the permeable boundaries between "human" and "natural," and into the partial and shifting nature of narrative and memory themselves, "wet and traveling maps."
As a bird is to its song, so the poet to the lyric: Laura Walker's bird book both depends upon and departs from this ancient analogy. Walker endeavors "to take the songbird out of your mouth" by juxtaposing scant narrative with language taken from the Field Guide to the Birds of North America, creating a rural landscape inside the family romance, an ordinary household of fields, farms and forests. Social and wild, maximally minimal, Walker's linguistic economy is dedicated as much to the Southern vernacular as to the fragment, and the resultant effects are both eerie and intimate: "pineland// dark with red eyes// drink your tea." Though ornithologists tell us that male birds sing to court potential mates and to mark territory, bird book most insistently critiques this lyric tradition by refusing to value romance and family life without first acknowledging their cost: "she awaits a violent body." Its great gift to readers is its implication that "to become transparent with song" is the essential, ineradicable loneliness of the mother and poet, whose self-erasing lyrics paradoxically seem the only stay against her dissolution. This is the story bird book tells: "in their own family//to lose your hold."
—Brian Teare
There's magic in a field guide; the pictures and the names resonate with what rises in flight in the woods and grassy plains. In Laura Walker's bird book the words and the colors and the shapes also rise up together in an incantation. Sometimes the natural world seems to evoke the human world, and sometimes the reverse feels true. Sometimes the vision of the poems is a clear, luminous afternoon, and at other moments it feels opaque, a misty twilight. a suggested house…the bells we depend upon…tongue a series….white lime of other days…she sewed him in patches …descant of rust: so many of these words and phrases will linger in us. Sometimes a bird is just a bird, and that can be enough. And a bird can be a spirit, a metaphor, a face glimpsed in a dream, an act of magic…
—Edward Smallfield
order from Small Press Distribution
bird book is also available by order through your local bookstore.
rimertown/an atlas (UC Press, 2008)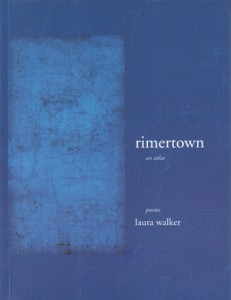 A poetic charting of Laura Walker's rural, southern hometown, rimertown/an atlas delves into the startling landscapes created by the passage of time through people and through place; it is an atlas born of image and voice. Composed of four interwoven strands—a collection of "maps," a collection of "stories," a series of vernacular prose poems, and a fractured narrative—the volume explores various geographies: of the physical world, of the intersection of natural and peopled landscapes, of the passage of time, of leaving and returning, of human relationships, of soldiers and war. Walker asks: how is "home" carried in memory, in landscape, in story, in time? Her poems break and merge, stitching and fragmenting narrative, syntax, and image as they push toward their own geography, "a fever doll, tapered song/ engineered into dusk/ hold the watery stream, its buck and clanging."
Laura Walker's atlas is sung and wrung out of a deep listening to every word, and this is rare. The poems are full of dirt, weeds and butternut squash, but even if the place from which (not of which) Walker writes were full of skyscrapers or strip malls, her connection to her language and her materials would be as particular, as true. Such singularity of connection (actual!) opens the field of meaning and experience for the reader coming into it, to gather and move, to suffer in spells and flower 'in the greening and the sound.'
—Lisa Fishman
rimertown/an atlas is also available by order through your local bookstore.
swarm lure (Battery Press, 2004)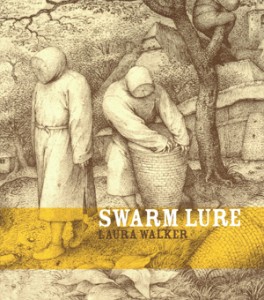 In three distinct sections, the poems in swarm lure investigate ideas of mutability and translation. The first section incorporates multiple translations of illegible marginalia from a used copy of James Joyce's Ulysses into an evolving narrative. The second section weaves iterations of prose poems shaped through online translation machines. The third section writes into the gaps between Italian beekeeping terms and their English translations.
The work of Laura Walker is a delight both in its sense of the world ("in careful blemishes the reflection is secured") and its complex edginess of language ("baht as baht. but baht is not baht; is bread"). This is writing of high intelligence and an architectural sense of structure. The title series, "swarm lure," takes as its occasion the language of Italian beekeeping. Like Montale's "The Pledge," constructed of motets, each section is a movement in time and presence, a part of the whole comb. This is poetry that can "cry the wagon and its horse tightly up a mountain," which is to say it matters.
—Paul Hoover
Lure over lore tumbling, head over heels, image and prosody, Laura Walker translates the lushness of fragment. Her poems–hungry, bewildered–are incarnated on memory's body, her mysterious gesture "writing recipes on our arms."
—Elizabeth Robinson
There is an intimate lilt, an indelible charm, a bygone narrator…in Laura Walker's elegant collection. Her tangibility of voice seems to know a listener. Conversation dares with an undone presence. In other words, you can put your feet up. You can find shade.
—Laynie Browne
*
genesis (chapbook) (above/ground press, 2023)
bird book (chapbook) (Albion Books, 2010)